In Memoriam
Rajiv Sinha was my batch mate. We met in 1969 at IIT Kharagpur and were separated permanently 53 years later, when he lost his battle with cancer on August 28, 2022.
Rajiv grew up in Rourkela and around other steel cities in India. He went to St. Xavier's High School in Hazaribagh after which he joined IIT KGP in the ECE Department and was a resident of Nehru Hall. I grew up in Bombay, was in the EE Department, and was an RKite. We had a common friend Ravindra Nair, also in the ECE dept, and an RKite who went to the same school as I did in Bombay, who was responsible for connecting us.
Ravi and I stayed in the same wing in RK Hall (C-West Ground) during our freshmen year, Rajiv was Ravi's lab partner who stopped by his room occasionally to "compare notes" (topo-ing describes it more precisely), and it was at one of these visits that I met Rajiv.
This was the start of a 53year friendship between the 3 R's... Ravi, Raji, & Roy.
We graduated in 1974.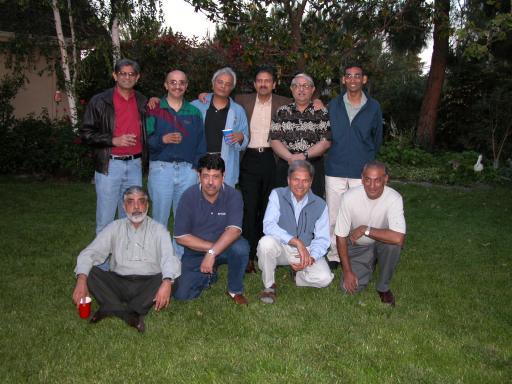 Ravi was awarded the President's Gold Medal and came to the University of Illinois at Urbana-Champaign for his Master's. He then went to work for IBM, I did a Master's in Business in Bombay and worked in India till I migrated to Silicon Valley in 1984. Rajiv had come to Columbia University and then started his first job at Harris in Florida. We had not been in touch with each other.
I reconnected with Rajiv in 2000. He had come to Silicon Valley from the east coast in 1990 and we quite accidentally discovered we were neighbors, living a mile from each other. We met on a number of happy occasions; the most memorable being at a "Reunion of 1974 RK Hall Wing mates", that took place at my house, in 2003. Neither Rajiv nor Ravi was told that the other would be present at the same reunion and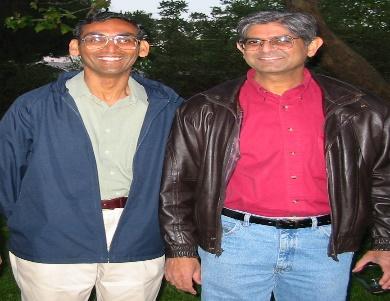 when they did meet face to face, it was a totally electrifying experience. Both were ecstatic to reconnect as they had not seen each other since 1974.
After Rajiv got his Master's in Computer Science, he worked in both large corporations (Unisys, Harris etc.) and in startups (Net Scaler, Netli) and most recently was, VP of Engineering, Networking, and Analytics at Citrix Systems. Along the way, he co-authored and published numerous patents, a testament to his professional engineering excellence. (see Rajiv Sinha Inventions, Patents and Patent Applications - Justia Patents Search),
All was well till about a year ago when Rajiv was diagnosed with colon cancer which had already spread to his liver. Three different regimens of chemo that did not work led to him being placed on experimental drug treatments which were being administered in San Diego. Our spouses Viola and Savita were to meet in early September, and strength permitting Rajiv and I were to have tea together. That was not to be. He took a turn for the worse, was admitted to the hospital, and passed on August 28th.
Arjun Malhotra and I have known each other since I was a freshman at IIT. Kiran Arjun's wife and Arjun are also friends with Rajiv and Savita. He encouraged me to write Rajiv's obituary for publication in The KGPian. I felt that this tribute to Rajiv would be so much more meaningful if I could get some of his closest friends to say a few words, so I reached out to them, and here is what they have to say.
From his lab partner and President's Gold Medal recipient, Ravindra Nair, ECE/74/RK
"Rajiv, a partner in most of my labs at IIT, will be remembered as an extremely intelligent person, articulate with his words, humble in his demeanor, generous with his ideas, and encouraging in his friendship. Oh! And I can't forget that occasional mischievous humor that he often used to defuse a tense lab situation. Labs at IIT were notorious for being complex, but Rajiv made them fun!"
From the Nehru Hall Reporter which was made available by Manojit Sinha, CHE/74/NH
"Rajiv was a fellow who helped in all literary activities without reservation, who was cool and unbiased in all his views, who stretched out a helping hand whenever the hall was in need, who kept his cool when others blew their tops, who felt the hall was his and he was part of the hall - what talent he has shown and may he put it to good use in his life. ……
From Venugopal, Rajiv's wingmate Che/74/NH
"Rajiv was one of the brightest guys I have met. Even at a young age, he had a laser-like focus. He was ever ready to give gyaan to anyone that wanted/needed it. Wise beyond his years, he had everybody's respect."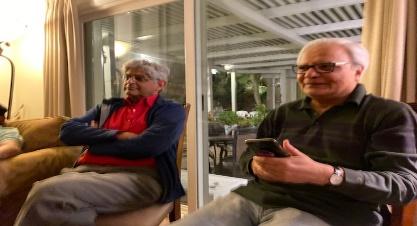 From his Friend and Neighbor Madhukar Jalan, IIT Bombay, CHE
"I will remember Rajiv for his vast knowledge of multiple subjects, as a voracious reader, an absorbing storyteller, and a good listener. Above all, he came across as a total gentleman and was a very caring friend. He will be sorely missed."
On behalf of the KGP family, I take this opportunity to convey our condolences and deepest sympathy to Rajiv's mother, mother-in-law, his wife Savita, and children Viraj and Nikita.
Rajiv, we will miss your intellect, humility, mischievous smile, and sense of humor that made you such great company. RIP my friend.
Roy D. (da Silva) EE/74/RK