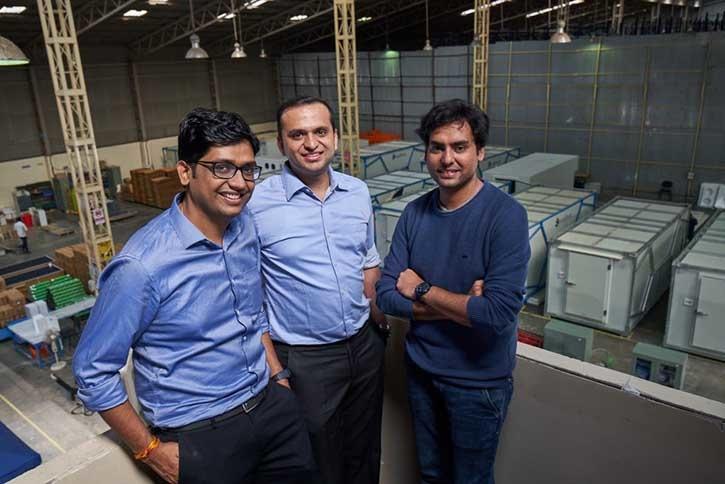 September 2022
Making Indian Farm Sector Climate-Smart with Deep-Tech
IITKGP Foundation
---
In June this year, Ecozen, a Pune-based start-up, co-founded by three Kgpians, raised ₹ 54 crores ($ 6.78 million) to expand its offering in the agricultural sector for irrigation and cooling in India. Devendra Gupta, Prateek Singhal, and Vivek Pandey started Ecozen Solutions in 2010 with a vision to disrupt the way perishables are handled across the value chain, with clean and innovative technology. They aim to expand the market base for smart and sustainable solar-based solutions for irrigation and cold storage that help improve livelihoods.
The startup uses data analytics, renewable energy, and food technology to provide better irrigation solutions, manage agricultural produce, and also connecting farmers with suitable markets. Their primary products include Ecotron solar pump controllers and Ecofrost solar cold storage rooms that occupy almost 20% and 50% of the Indian market respectively. Through Ecotron, farmers with limited access to power can reduce their diesel use and increase their harvest yields. The cold storage room enables them to keep their commodities fresh till sold.
Ecozen is already providing services to the farm sector in Maharashtra, Chhattisgarh, Haryana, Odisha, and Jharkhand. With the growth of the agricultural and food sectors in India, the Kgpian trio estimates doubling their business scale and building a presence in UP, Rajasthan, Telangana, Andhra Pradesh, Madhya Pradesh, and the southern belt. They are now in talks to raise another ₹ 200 crores ($ 25 million) for the expansion project in the domestic as well as foreign markets in Africa and Southeast Asia.
The company is also exploring extending the use of the technology in other technological fields such as electric vehicles.
References:
https://www.indiatimes.com/news/india/meet-the-three-iit-kharagpur-alumni-in-pune-who-are-on-mission-to-make-people-climate-smart-573401.html