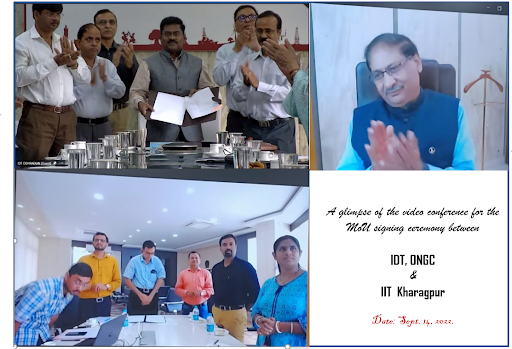 October 6, 2022
MOU to Promote Drilling Technology R&D
IITKGP Foundation
---
With the spirit of strengthening industry-academia collaboration and a decisive step toward the "Make-in-India" drive, IIT Kharagpur and the Institute of Drilling Technology (IDT), ONGC signed an umbrella MoU on September 14, 2022. The MoU shall serve as a baseline to undertake several collaborative R & D projects between the institutions.
The MoU was signed between Shri. G.A.V.S. Prasad (HOI, IDT-ONGC) and Prof. Suman Chakraborty (Dean R&D, and Professor, IIT Kharagpur) in presence of dignitaries from either side. Shri. O. P. Singh, Director (Field and Technical Services, ONGC) was the special guest of honor for this ceremony.
The initiative highlights industrial and inter-disciplinary research efforts undertaken at the Deysarkar Centre of Excellence in Petroleum Engineering. One of the R & D projects for the development of thermally stable drilling fluids has already been submitted by Prof. Sandeep D. Kulkarni as PI (Associate Professor, Deysarkar Centre of Excellence in Petroleum Engineering) and Prof. Kiran Gore (Assistant Professor, Department of Chemistry) and has been positively received by IDT, ONGC.
Potentially, several such collaborative projects would be initiated between IDT, ONGC, and IIT Kharagpur in the domain of drilling, drilling fluids, cementing fluids, and completion fluids. In addition to robust technological development in this domain, this collaboration shall also enable the students of IIT Kharagpur (graduate and undergraduate) to be "industry ready".