KGP Trustee & Past SBI CEO Arundhati Bhattacharya and Former RBI Head Raghuram Rajan talk ECONOMY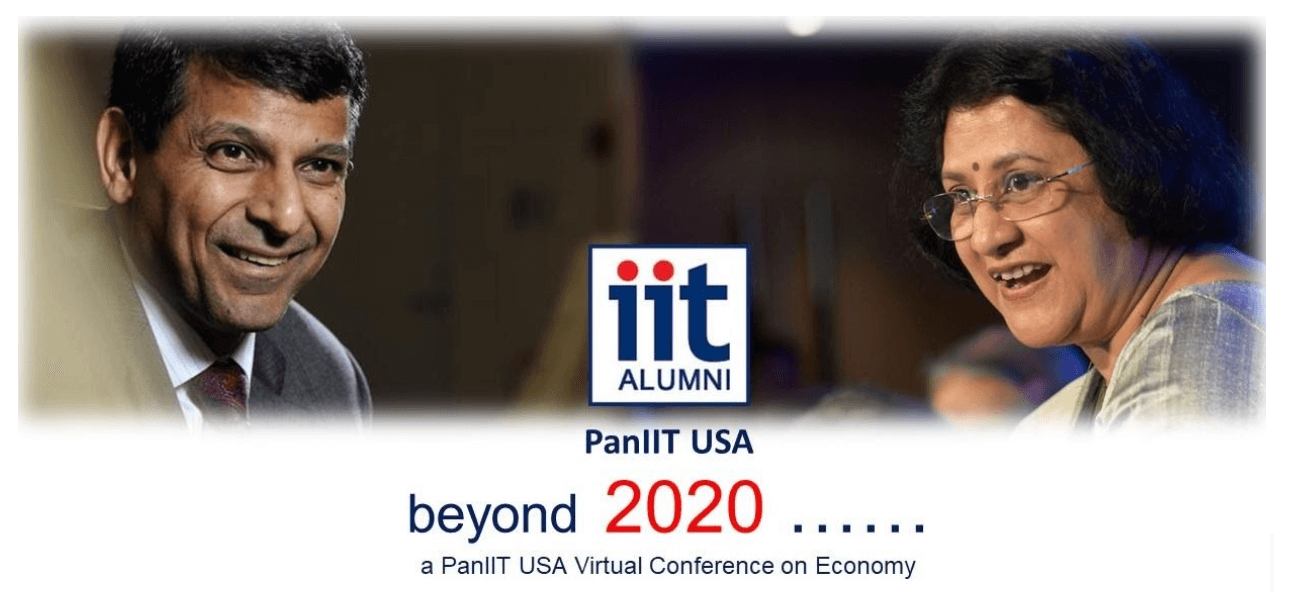 THE NEW GLOBAL ECONOMIC NORM: POST
COVID-19
We invite you to register yourself for THE NEW GLOBAL ECONOMIC NORM: POST COVID-19, hosted by PanIIT USA in association with WHEELS Global Foundation, with former RBI & SBI heads discussing the impact of COVID-19 on Global Economics with Management Dean Dipak Jain...what is the new Norm?
Over 1,500 have already registered for this virtual conference.

DATE: Thursday, July 23, 2020
TIME: 9:00-10:30am PDT/12:00pm-1:30pm EDT/09:30-11:00pm IST
Speakers:
Arundhati Bhattacharya - Member, Board of Trustees, IIT Kharagpur; President and CEO, Salesforce India and former Chairperson of the State Bank of India.
Raghuram Rajan - IIT Delhi graduate, is Katherine Dusak Miller Distinguished Service Professor of Finance at University of Chicago Booth School of Management; former Governor of the Reserve Bank of India; former Chief Economist and Director of Research at the International Monetary Fund.
Moderator:
Dipak C. Jain - President (European) of the China Europe International Business School (CEIBS), former-Dean Northwestern University's Kellogg School of Management.
NEW GLOBAL ECONOMIC NORM: POST COVID-19
New Global Economic Paradigm

New Economy to be Digital and Data-driven by AI and ML

New Development Opportunities; particularly Infrastructure

New Global Economic Alliances

Opportunities for IITians to impact the New Global Economics
For any problems with the registration or logging on for the event, please contact Ron Gupta rongupta@aol.com or Erin L. Moran emoran@iitkgpfoundation.org.
PanIIT USA Team:
Ron (Ranbir) Gupta (Kharagpur), Anoop Verma (Roorkee),
Animesh Pathak (BHU), Arun Jain (Guwahati),
Witty Bindra (Delhi), Sanjiv Goyal (Delhi) and Sundy Srinivasan (Delhi).
In association with WHEELS Global Foundation.
----------------------------------
The IITKGP Foundation respects your privacy!
To make sure these communications are not mistakenly blocked in the future by your spam-blocker, please add 'email_watch@omnimagnet.net' and 'webmaster@iitkgpfoundation.org' to your approved-senders-list. If you no longer wish to receive correspondence of this kind from the IITKGP Foundation please follow this unsubscribe link:
http://www.iitkgpfoundation.org/unsubscribe.html?email=[email]
. You will be removed from receiving any further e-mails at that point. Please allow up to 72 hours to process.