Don't miss out: Make sure to register for the PanIIT USA "IIT2020: Future is NOW" Conference!

Dear KGPian,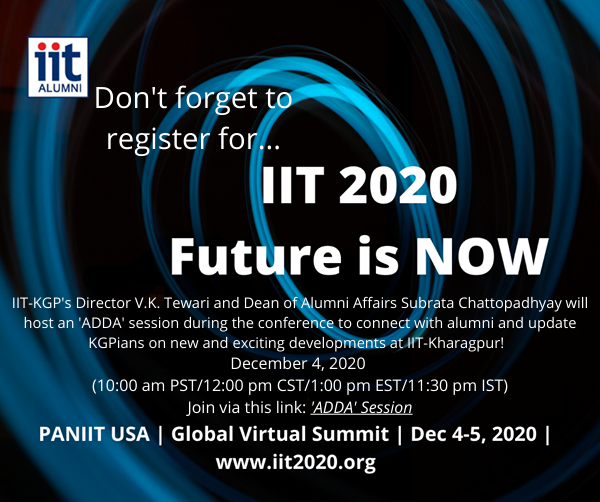 IIT2020: Future Is Now, Global Summit
DATE: December 4th - 5th, 2020
REGISTRATION IS STILL OPEN--REGISTER NOW
Don't miss events during the conference...
Friday, December 4, 2020
(10:00 am PST/12:00 pm CST/1:00 pm EST/11:30 pm IST)
IIT-KGP's Director V.K. Tewari and Dean of Alumni Affairs Subrata Chattopadhyay will host an 'ADDA' session during the conference to update KGPians on the new and exciting developments at IIT-Kharagpur!
Join via this link:
'ADDA' Session
Saturday, December 5, 2020
(10:40 am PST/12:40 pm CST/1:40 pm EST/12:10 am IST)
IIT Directors Forum: New Education Policy; New Education Paradigm; International Exchange Programs; Research to Launch; Nodes of Excellence
The IRS recently released guidance related to the CARES (Coronavirus Aid, Relief and Economic Security) Act that states, "Following special tax law changes made earlier this year, cash donations of up to $300 made before Dec. 31, 2020, are now deductible when people file their taxes in 2021." The IITKGP Foundation is Tax-Exempt under Internal Revenue Code (IRC) Section 501(c)(3) in the United States (Federal ID: 47-0747227). As 2020 is nearing its conclusion, please remember your KGP and give back! You can make a quick donation via the below buttons...

----------------------------------
The IITKGP Foundation respects your privacy!
To make sure these communications are not mistakenly blocked in the future by your spam-blocker, please add 'email_watch@omnimagnet.net' and 'webmaster@iitkgpfoundation.org' to your approved-senders-list. If you no longer wish to receive correspondence of this kind from the IITKGP Foundation please follow this unsubscribe link:
http://www.iitkgpfoundation.org/unsubscribe.html?email=[email]
. You will be removed from receiving any further e-mails at that point. Please allow up to 72 hours to process.