Cheer for your fellow Kgpian at the Care In Space Demo Day!
Kgpian Sajal Ghoshal invites you to join him at under the iconic orbiter, space shuttle Endeavour, for the inaugural Care In Space Demo Day!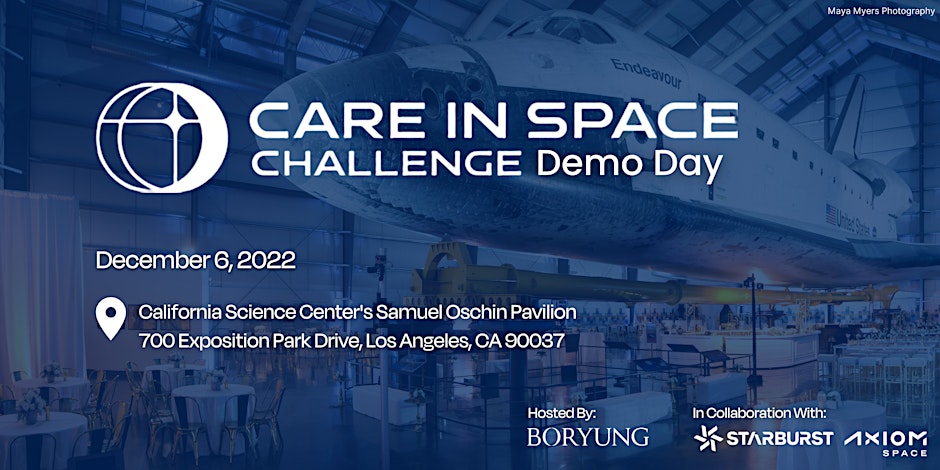 Texas-based Advanced TeleSensors, led by Sajal Ghoshal will display their healthcare technology for astronauts
Date and Time: December 6, 2022 from 6.00 — 10:30 pm PST [Demo Schedule]
Venue: California Science Center, Samuel Oschin Pavilion.
For participating virtually Register here!
Boryung, Axiom Space and Starburst are thrilled to formally invite you to join us under the iconic orbiter, space shuttle Endeavour, for the inaugural Care In Space Demo Day! Hosted at the illustrious California Science Center's Samuel Oschin Pavilion on December 6, 2022, the Demo Day and Holiday Party will take place from 6:00 pm to 10:30 pm PST.
Guests should begin arriving at 6:00 pm for pre-networking refreshments and hors d'oeuvres before we move into the Samuel Oschin Pavilion where welcoming remarks will initiate the program just after 7:00 pm.
The six winning startups of the first annual space health challenge are Advanced TeleSensors, Deep Space Biology, Myelin-H, Nano PharmaSolutions, ViBo Health, and Xtory. The startup teams, who were selected from a large pool of competitive applicants to receive investment and mentoring as well as participate in Starburst's 13-week accelerator program, will showcase their progress by pitching live to investors at Demo Day.
Learn more about the winning companies in the official press release: https://bit.ly/3hLMKAE
Along with the six startup presentations, the Care in Space Demo Day agenda includes exceptional keynote speeches and panel sessions with leading industry experts on topics ranging from commercialization of LEO (low Earth orbit) to ongoing innovations for safe and prolonged human access to space.
The (tentative) agenda includes:
Keynote 1: The Impact of Space Health Care on Humanity
Keynote 2: Creating Demand in LEO
Keynote 3: Innovation in Space Health - Bridging Terrestrial Technologies to LEO
Panel Session: Investing in Space
Dinner will be served during the program, and guests are invited to join us afterward for festivities, networking, and the opportunity to speak to the presenting companies at their demo booths.
We look forward to having you join us for this unique opportunity to toast to the holidays at the current home of the Endeavour space shuttle on Tuesday, December 6!
Guests who are unable to attend in person are invited to join us virtually (streaming link provided upon registration). Register here today!
----------------------------------
The IITKGP Foundation respects your privacy!
To make sure these communications are not mistakenly blocked in the future by your spam-blocker, please add 'email_watch@omnimagnet.net' and 'webmaster@iitkgpfoundation.org' to your approved-senders-list. If you no longer wish to receive correspondence of this kind from the IITKGP Foundation please follow this unsubscribe link:
http://www.iitkgpfoundation.org/unsubscribe.html?email=[email]
. You will be removed from receiving any further e-mails at that point. Please allow up to 72 hours to process.