Giving Back to Support Future Alumni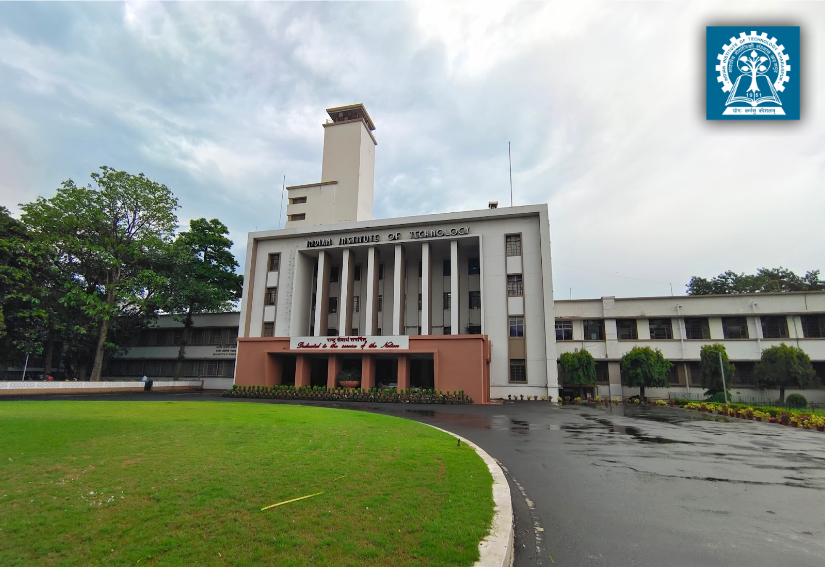 IIT Kharagpur Foundation (USA) NEWSLETTER
Volume: 06.24.2023
Dear Reader,
IITKGPF (USA) has awarded 8 scholarships valued at nearly $30,000 for IITKGP students to do international research internships this summer. Students received awards ranging from $800 to $4,000 depending on the support received from the host institution. Students are selected by an IITKGP committee consisting of faculty and members of the Office of Alumni and International Affairs. Under this program, IITKGPF (USA) supports meritorious IITKGP students across Bachelors and Masters levels and Departments/Schools/Centers each year for availing high quality international research and professional internships. The awardees are selected on the basis of the following criterion: quality of the host institution/company, quality of the proposed research, academic standing of the applicant, and financial need is also given consideration. Students receiving scholarships from host institutions also apply but are given awards that cover the difference between the host institution's scholarship and $4,000.
This year's awardees have already started their internships at a number of impressive universities and research labs in France, Switzerland, Japan, Singapore, Brazil, Canada, and the USA. The host institutions are: Université Paul Sabatier, Toulouse (Laboratoire de Physique Théorique – FERMI), ETH Zürich, National University of Singapore, Kyoto University, University Of Campinas - Unicamp, Université Laval, Laboratoire de Physique l'Ecole Normale Superieure, and Pennsylvania State University. According to Rishan Joshua D'Silva who is a senior studying Aerospace Engineering and visiting a lab in Brazil to study computerized sensors applied to food and agricultural engineering, "It is a huge help in my career as it provides me with great exposure and gives practical knowledge and laboratory experience."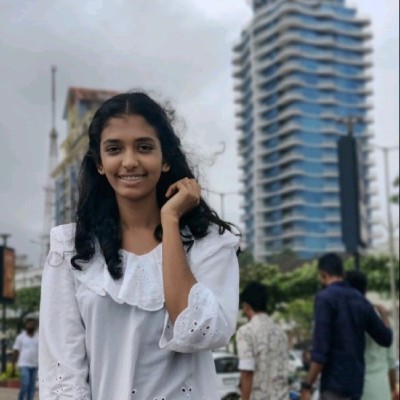 Another student, Keerthy GS (MTech/Physics/3rd year) reminds us of the need for these donations and how much support the scholarship provides to selected IITKGP students. She is doing her research internship at the National University of Singapore. Keerthy wrote to us the following and her story will ring true for each one of us who likely has a similar story to tell, "I belong to a middle-class family from a small village in Kerala. As an aspiring physicist, I realize the importance of doing projects during my undergraduate period. During the last winter, I have been mailing several professors working in the same field as my interest. Then I got accepted by a professor at the National University of Singapore. I was so relieved. Then came the funding issue. So I talked to my batchmates who had previously received this scholarship and I applied for it. I really needed this scholarship to visit the campus and do the work. When I received the selection mail, I felt so happy and excited. Always grateful to the organization for providing such excellent opportunities for students. This was my first trip to a foreign country, and I became the first to go abroad from my family. Without a doubt, this is a life-changing opportunity for many people like me. I hope the foundation continues to give more opportunities to students because the exposure a student receives will not only build their career, but it gives hope to the society they are coming from."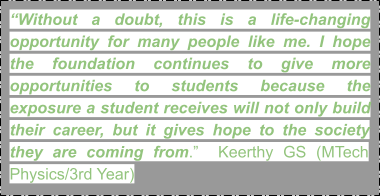 Keerthy is just one wonderful example of who we can support with our donations! We can make many other dreams come true!
The IITKGP alumni community gives back for many reasons. Some aim to create opportunities for students through unrestricted support for initiatives such as these international scholarships, while others want to bolster faculty research through chaired professorships or equipment and campus initiatives such as hall modernization. Yet most of the alumni, donors, family members, and friends say that they give back because if it weren't for the education received at IIT Kharagpur, they would not be where they are today.
Join IITKGP alumni in giving back any amount to support IITKGP in its efforts to continue to be recognized as a world class university that provides outstanding opportunities for its students while being engaged in quality teaching, cutting-edge research, and service to its community. There are several ways to donate to the IITKGP Foundation (USA) including direct support in any currency, employer matching, and/or specific initiatives like modernizing your hall room.
#LearnEarnReturn
----------------------------------
The IITKGP Foundation respects your privacy!
To make sure these communications are not mistakenly blocked in the future by your spam-blocker, please add 'email_watch@omnimagnet.net' and 'webmaster@iitkgpfoundation.org' to your approved-senders-list. If you no longer wish to receive correspondence of this kind from the IITKGP Foundation please follow this unsubscribe link:
http://www.iitkgpfoundation.org/unsubscribe.html?email=[email]
. You will be removed from receiving any further e-mails at that point. Please allow up to 72 hours to process.