Celebrating KGP's Early Graduates: Bala Natarajan ('57)
IITKGP Foundation (August 2020)
A brief note: B Natarajan
I was born on October 14, 1936 and had my schooling and Pre-Engineering Education in Delhi. Four of us from the Delhi Polytechnic joined IIT Kharagpur in 1953. We were the 3rd batch, each year had nearly 300 students, Civil Engineering Department being the largest with 90 students in two sections. Our Mechanical Engineering classes were in the old building. A large new building was under construction. After passing out I was briefly in Indian Standards Institution. Then joined Hindustan Steel and was trained in USA, in the US Steel's Pittsburgh Plant, from September 1958 to July 1959. I worked in Rourkela Steel Plant in Orissa and Bokaro Steel Plant Bihar until December 1974 in Material Handling, especially over rails and liaised with Indian Railways. Then I shifted to a Heavy Transformer Factory in Madras and worked there until May 1987 as Works Manager.
Along with another IITian and school mate, N Krishnan and I ran a small scale unit as ancillary to India Piston Ltd. We wound up in 2001.
The shift to Madras/Chennai was for family reasons. I was married on 30 October 1963 in New Delhi. I am an MBA from Madras University and Post Graduate diplomate in Yoga from Annamalai University. I continue Yoga practice and Vedanta study. I have published a book, Introduction to Bhagawat Geetha, available in Amazon, as Bala Natarajan.
My wife and I were visiting the children frequently and in 2015 became citizens. My wife passed away in 2016 and I am dividing my time with my Children and family. They are well married and have children in school. We had a grand get together at the end of 2019 in the Pleasanton home (a photo from the event is below).
One of B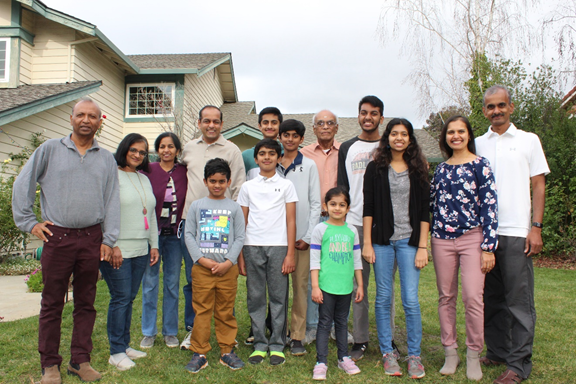 ala's hobbies since boyhood has been photography. Here is a link to a few photos he snapped while at IIT-KGP.
If you have memories about KGP you would like to share, please contact Erin L. Moran at emoran@iitkgpfoundation.org.