$310,000 has been raised for KGP campus poor people. Need $690,000 more. Please help us!


The IITKGP Foundation US has raised $290,000, additionally, IIT-Kharagpur has received INR 16 Lakhs in donations directly; leaving a remaining target of about $690,000!
Thank you to the generous donors that have already given back to this critical campaign! Click the below button to be taken to the latest list.

Below are a few photos from the latest distribution of rations. Also, check out a video of the distributions by clicking here.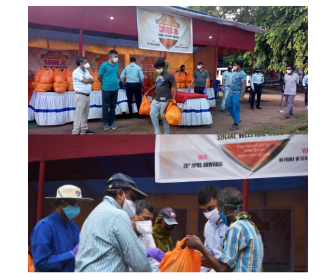 In 1962, in my first year at IIT, it was a surreal experience for a 16-year-old from a village in U.P. When I got sick, the guy who took care of me was the Ward Boy in Patel Hall and his name was Papaya. I still remember him.
Even my friend, Bill Clinton told me that when he went to Oxford, the guy that took care of him at Oxford was the Porter, equivalent to a
ward boy. When he became President, he did not invite anybody from Oxford for his swearing-in ceremony except that Porter.
It just shows how important they have been in our lives. I call them unsung heroes. This is a time of crisis for them and we need your help.
Please donate generously. I have donated $100,000.
Vinod Gupta
1967 Ag. Engg.
Patel/R.K. Hall
Committee for IITKGP Alumni COVID-19 Fund
Cost Estimate of Support by the IITKGP Alumni for COVID-19
We need your help urgently!
Donate via the below buttons! You can donate in US $ or Canadian, Australian, or Singapore $. Donations made in the US may be tax-deductible.

The IITKGP Foundation is a not for profit organization with a 501(c)(3) status in the United States (Federal ID: 47-0747227).
If making a donation in INR, click the below link for details.
(For tracking and recording purposes, if making an INR donation, please send an email with your name, date of donation, and donation amount to info@iitkgpfoundation.org.)
If unable to view this email, click here to access it on our website.
----------------------------------
The IITKGP Foundation respects your privacy!
To make sure these communications are not mistakenly blocked in the future by your spam-blocker, please add 'email_watch@omnimagnet.net' and 'webmaster@iitkgpfoundation.org' to your approved-senders-list. If you no longer wish to receive correspondence of this kind from the IITKGP Foundation please follow this unsubscribe link:
http://www.iitkgpfoundation.org/unsubscribe.html?email=[email]
. You will be removed from receiving any further e-mails at that point. Please allow up to 72 hours to process.