IITKGP Business School ranked 8th in India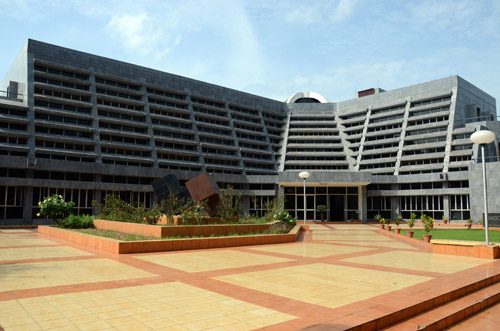 **You can share the newsletter with your KGP friends.
Click "Share With a Friend" above the banner image!**
Dear Reader,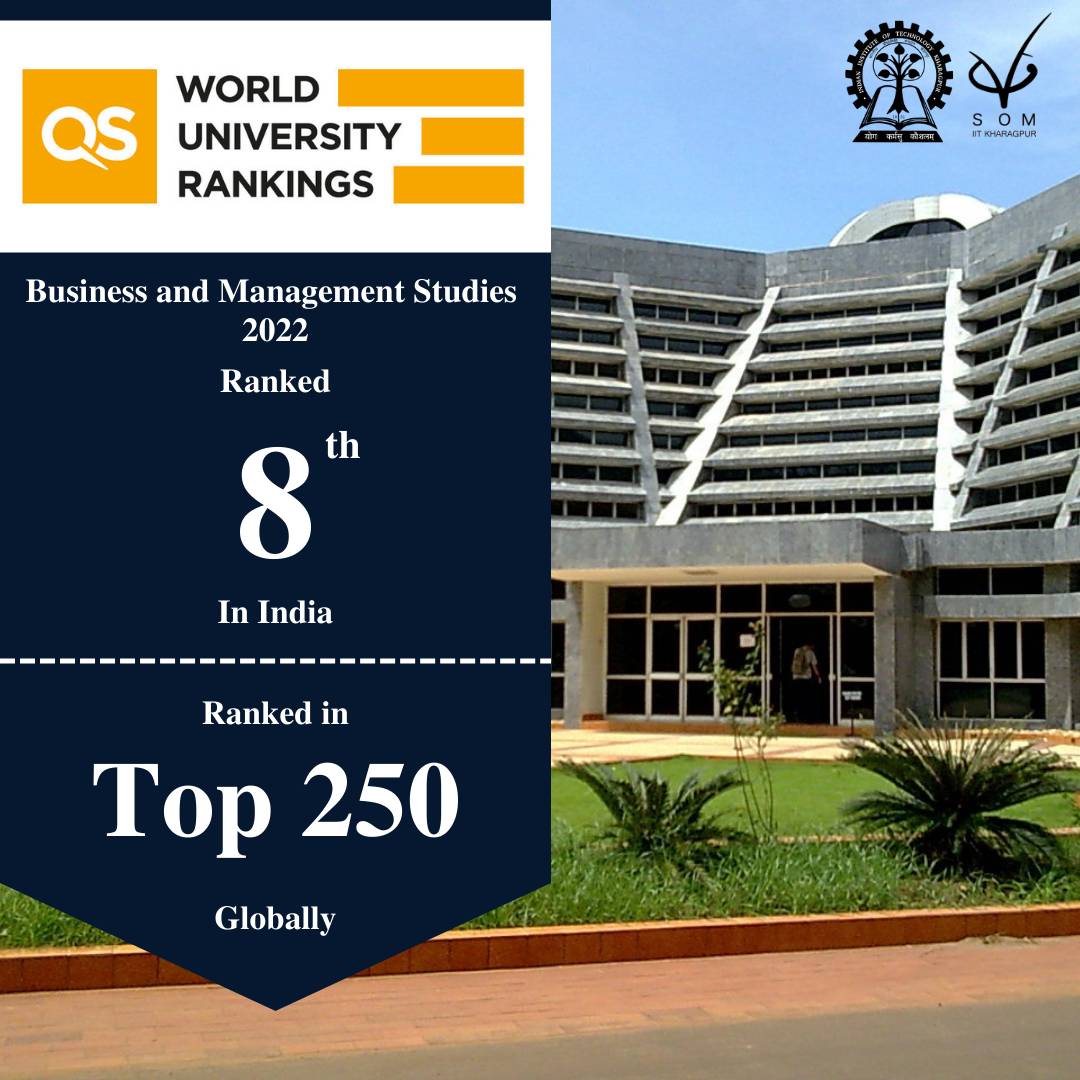 IIT Kharagpur's Vinod Gupta School of Management (VGSOM) has once again aced the QS World Rankings in the domain of Business and Management!
IIT-KGP needs your help. Every dollar you donate, helps your institute!
The IITKGP Foundation is Tax-Exempt under Internal Revenue Code (IRC) Section 501(c)(3) in the United States (Federal ID: 47-0747227).
Make sure to submit any pictures you have of "KGPians Getting Together" either socially or for KGP related events. We will share them in an upcoming newsletter!

UPCOMING EVENTS
Ongoing: Apply for CEP (Continuing Education Program) Courses at IIT-Kharagpur
Ongoing: MITHAS and LearnQuest Academy of Music present, "Blue Planet Music Festival"
Ongoing: Weekly Zoom Presentation Sessions hosted by Arvind Jain ('69) and Prabjit Singh ('69)
May 28, 2022: PanIIT USA Social Entrepreneurship Talk with Ved Mitra Arya (IIT Kanpur)
May 31, 2022: Partha Ghosh Academy of Leadership Talk with Mr. Narayana Murthy (Founder, Infosys)
June 12-14, 2022: Mani-Fest 2022: Directions in Theoretical Physics
If you have an event you would like to add to the calendar, please send an email with details to info@iitkgpfoundation.org.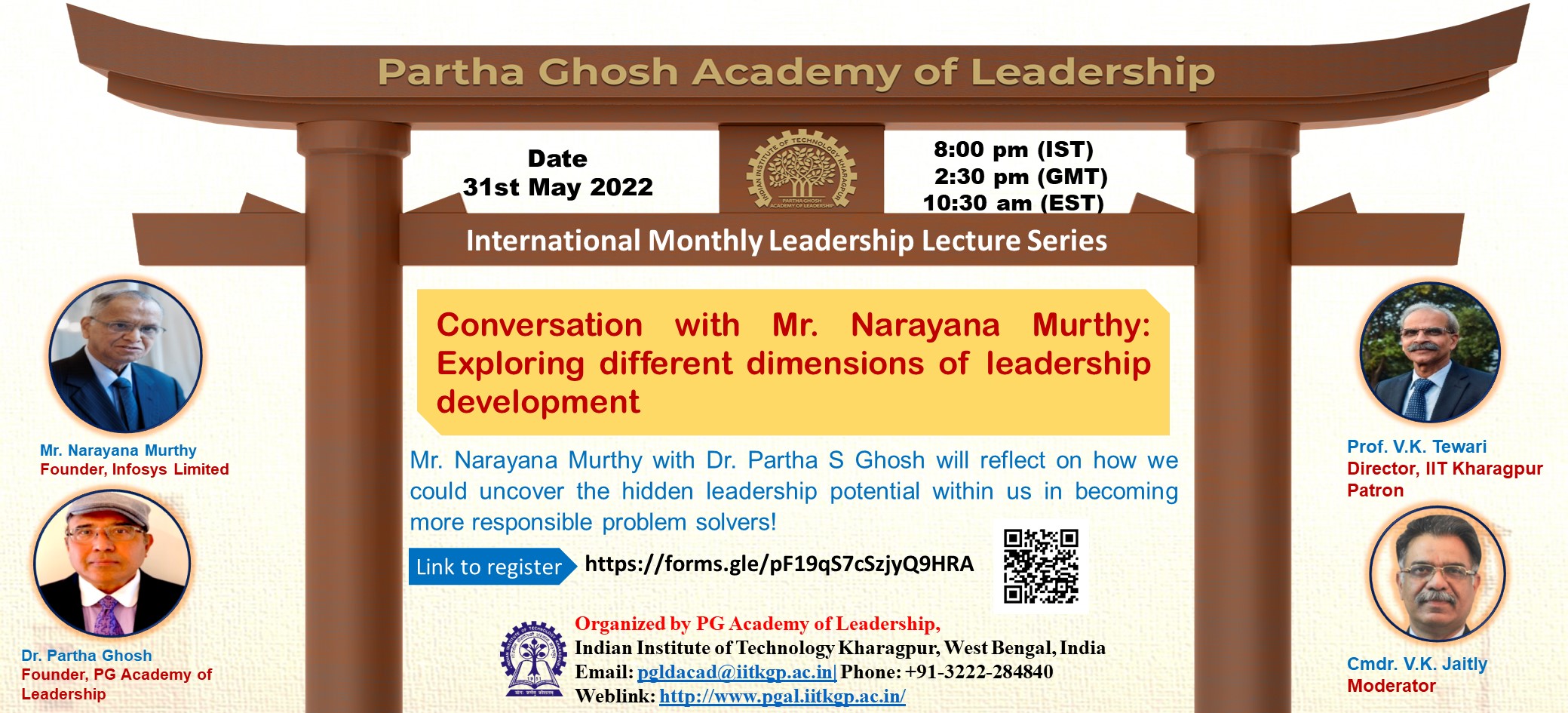 Join the IITKGP Partha Ghosh Academy of Leadership for an upcoming talk with Mr. Narayana Murthy, the Founder of Infosys.

IIT Kharagpur recognizes the professional achievements and contribution of its alumni through the DAA and recognizes young and promising alumni through the YAA. Online submissions must be completed by June 5, 2022.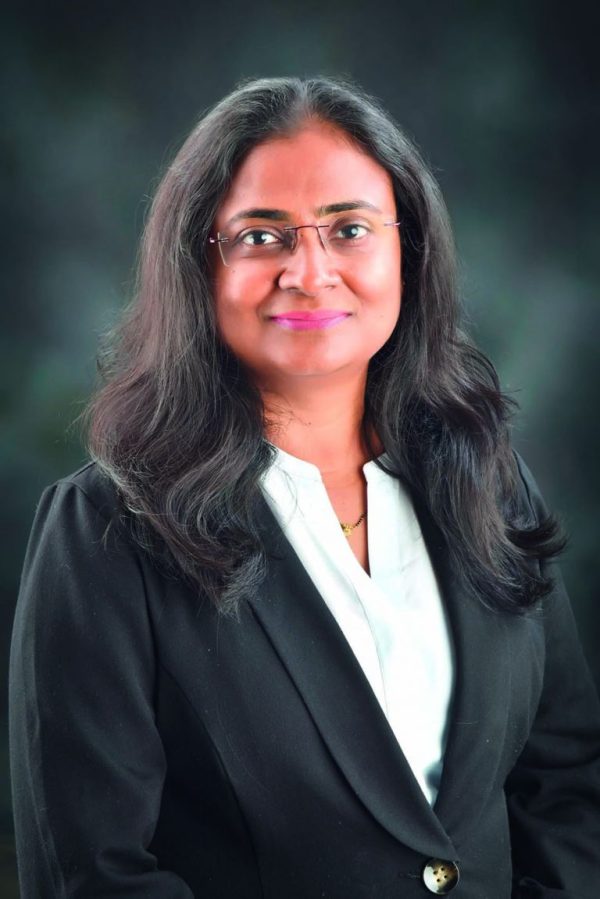 Dr. Manaswini Rath ('01) speaks to The Interview Times about being a female entrepreneur and global business leader.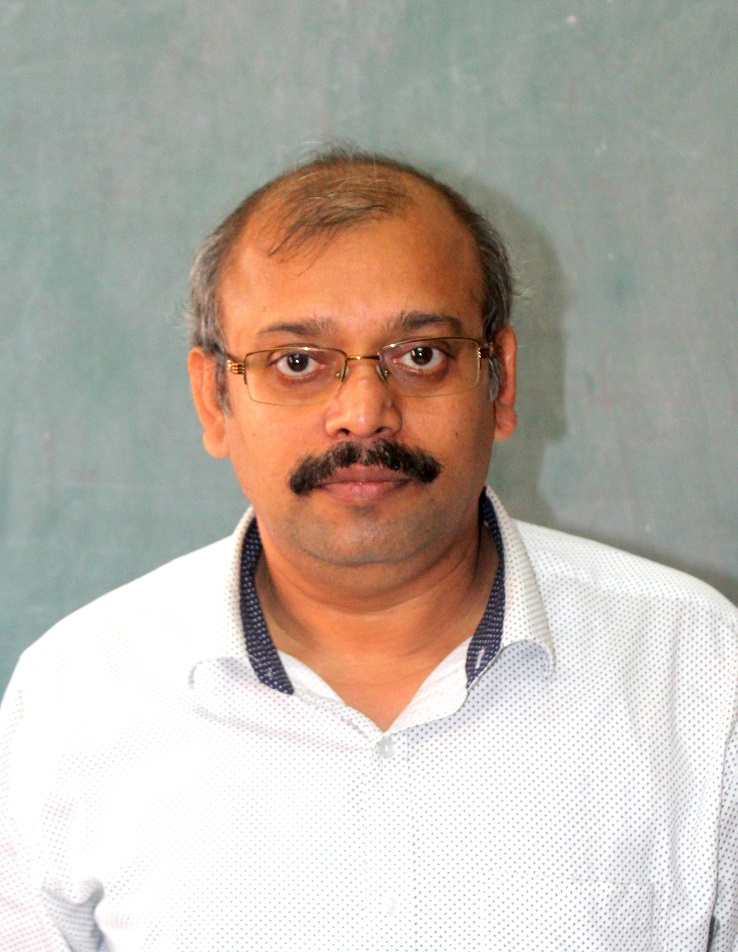 Professor Ambarish Ghosh ('92, '96), an IIT Kharagpur alumnus, and his IISc students incubated the start-up 'Theranautilus' that helps boost the success of root canal treatments.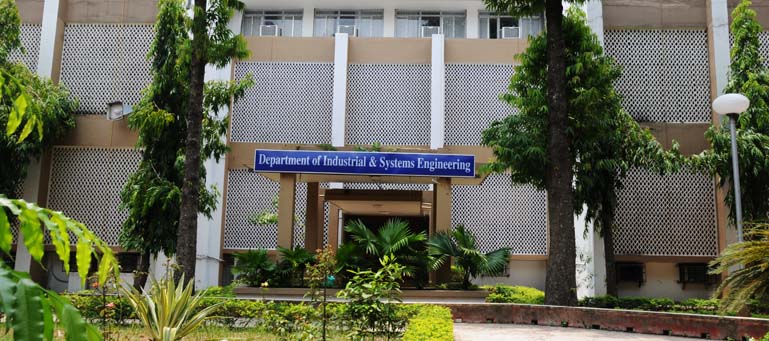 IIT KGP's Department of Industrial and Systems Engineering in collaboration with Purdue University, recently conducted a five days training course on Human Factors Engineering in Healthcare Systems.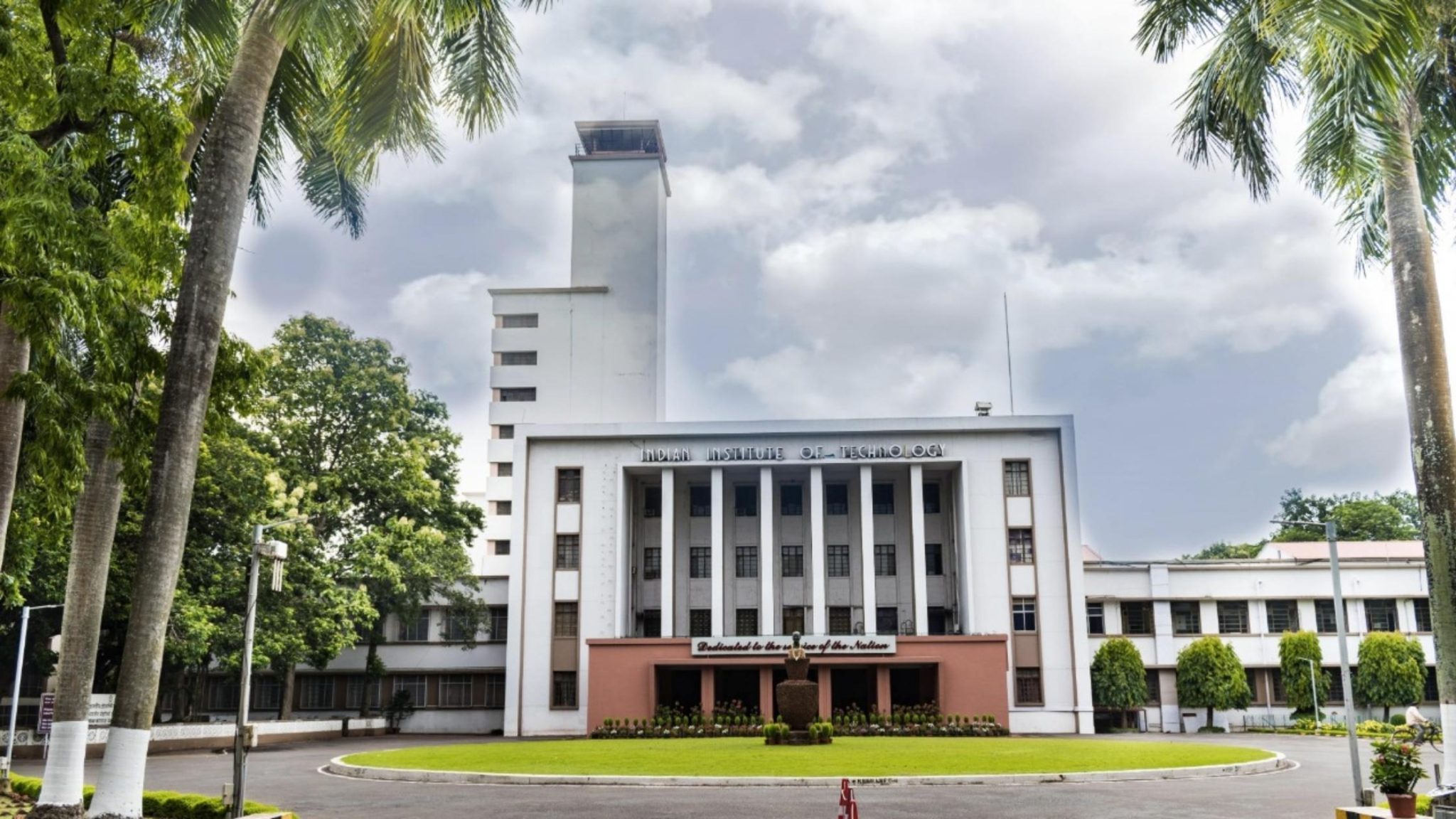 With the development, the team, which is comprised of IIT Kharagpur and Indo-Korea Science and Technology Center (IKST), is planning to undertake a larger-scale study using a wide range of materials.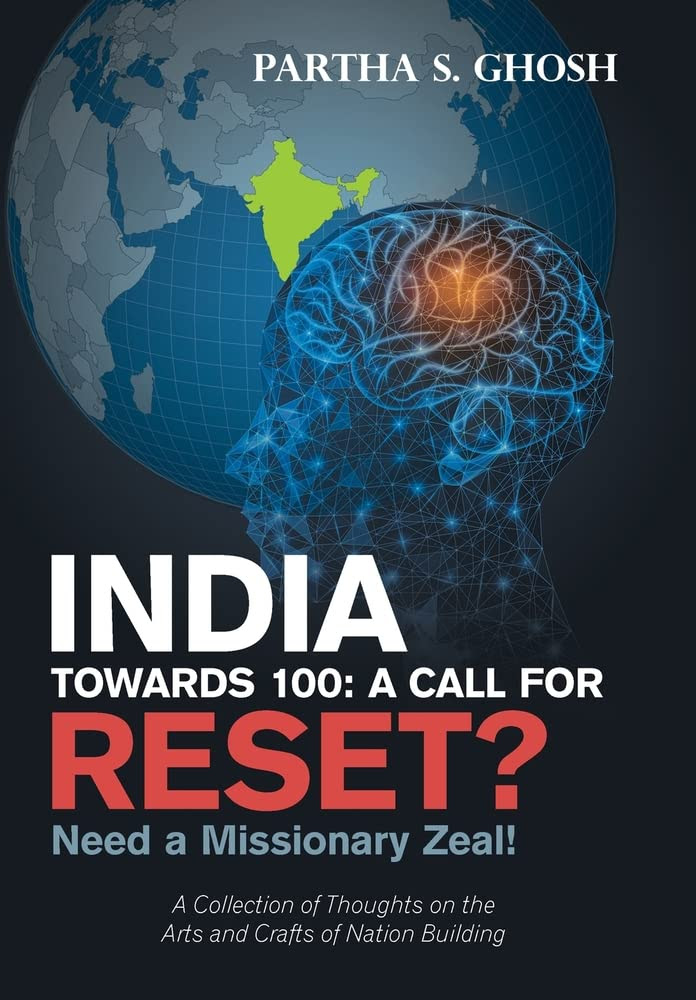 The "India towards 100: A Call for Reset" webinar which was held May 8, 2022, was a huge success--bringing together close to 200 thought leaders from many different backgrounds. If you missed out, we are sharing a link to the recording.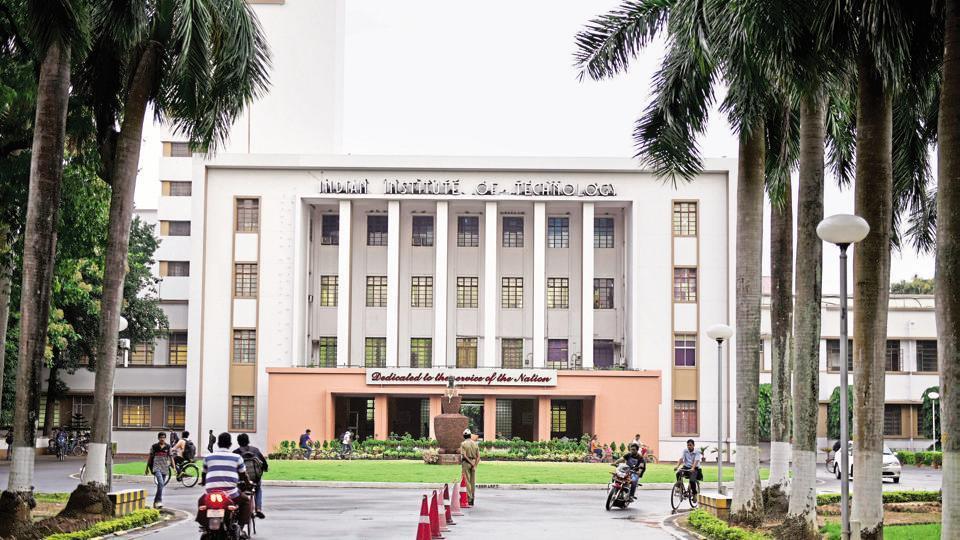 1969 Batch members Arvind Jain and Prabjit Singh have been hosting weekly Zoom meetings that feature different presenters/topics every session.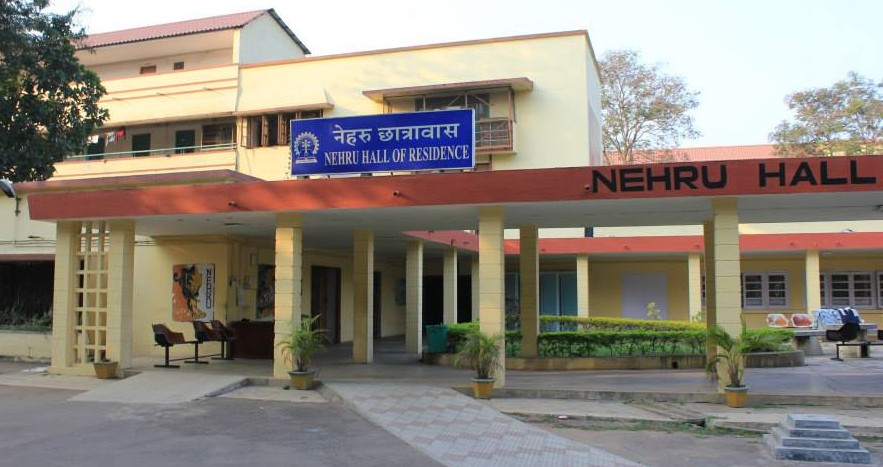 A 2021-22 Project by IIT Kharagpur Alumni from Nehru Hall to modernize Nehru Hall of Residence with modern day amenities, while still keeping the charm and characteristics of when it was first opened.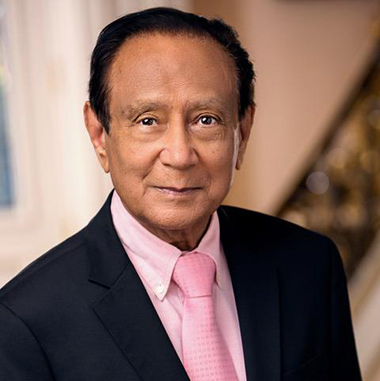 Mani-Fest 2022 is a conference being held at UCLA to celebrate the 5th year of the Mani L. Bhaumik Institute of Theoretical Physics, as well as Dr. Mani L. Bhaumik's 90th birthday. The conference is being held a year late due to the pandemic.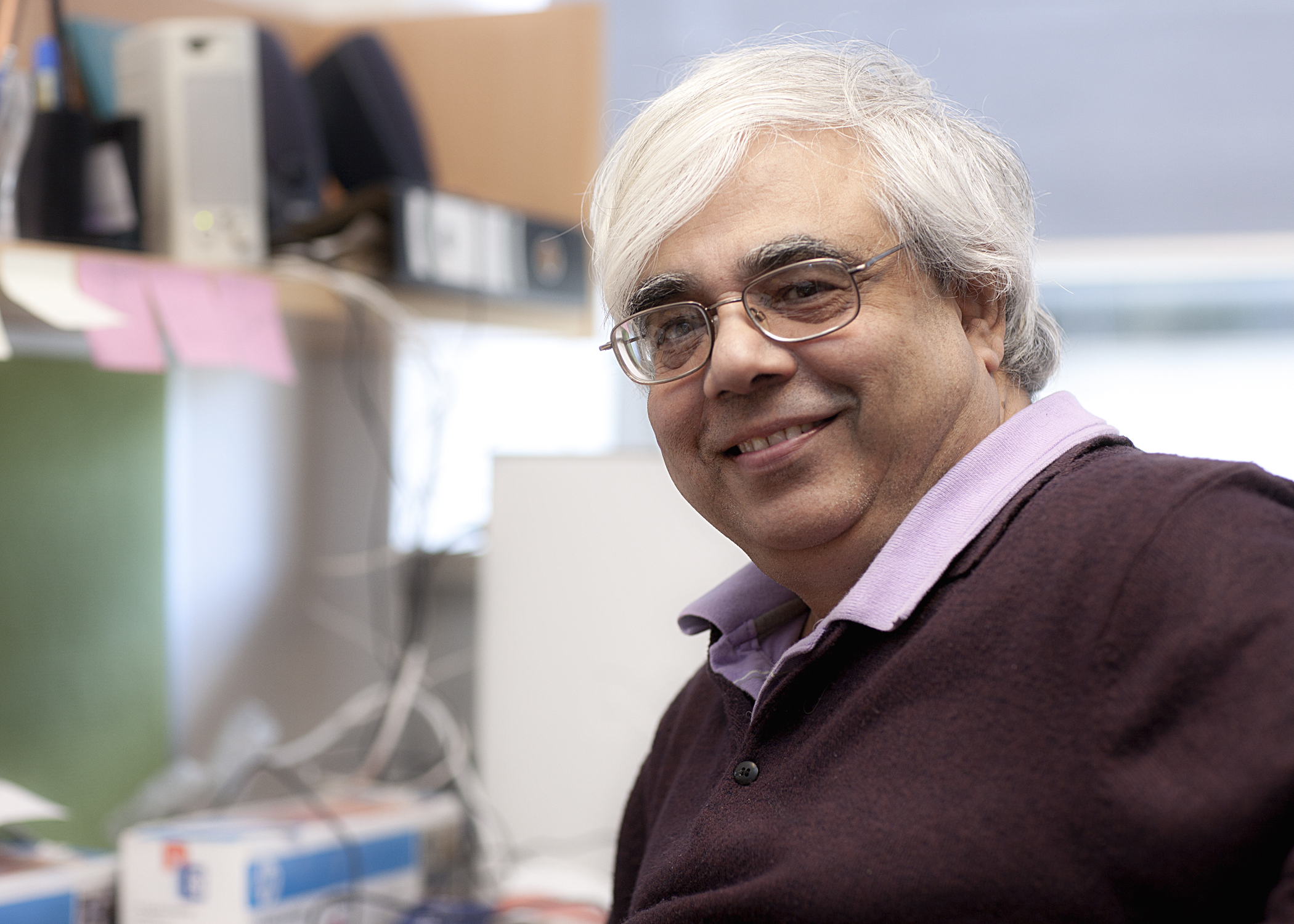 'Bandy the Singing Professor', Sri Bandyopadhyay ('68), wanted to share his Bengali song lyrics of a poem/song on Rabindranath Thakur and the research that he compiled for the US Defense Innovation Conference.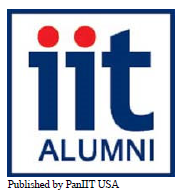 The two scholarship initiatives are announced as a service to IIT alumni in the USA, one being a graduate student scholarship and the other a high school scholarship for children of IIT alumni. The application deadline for both is June 15, 2022.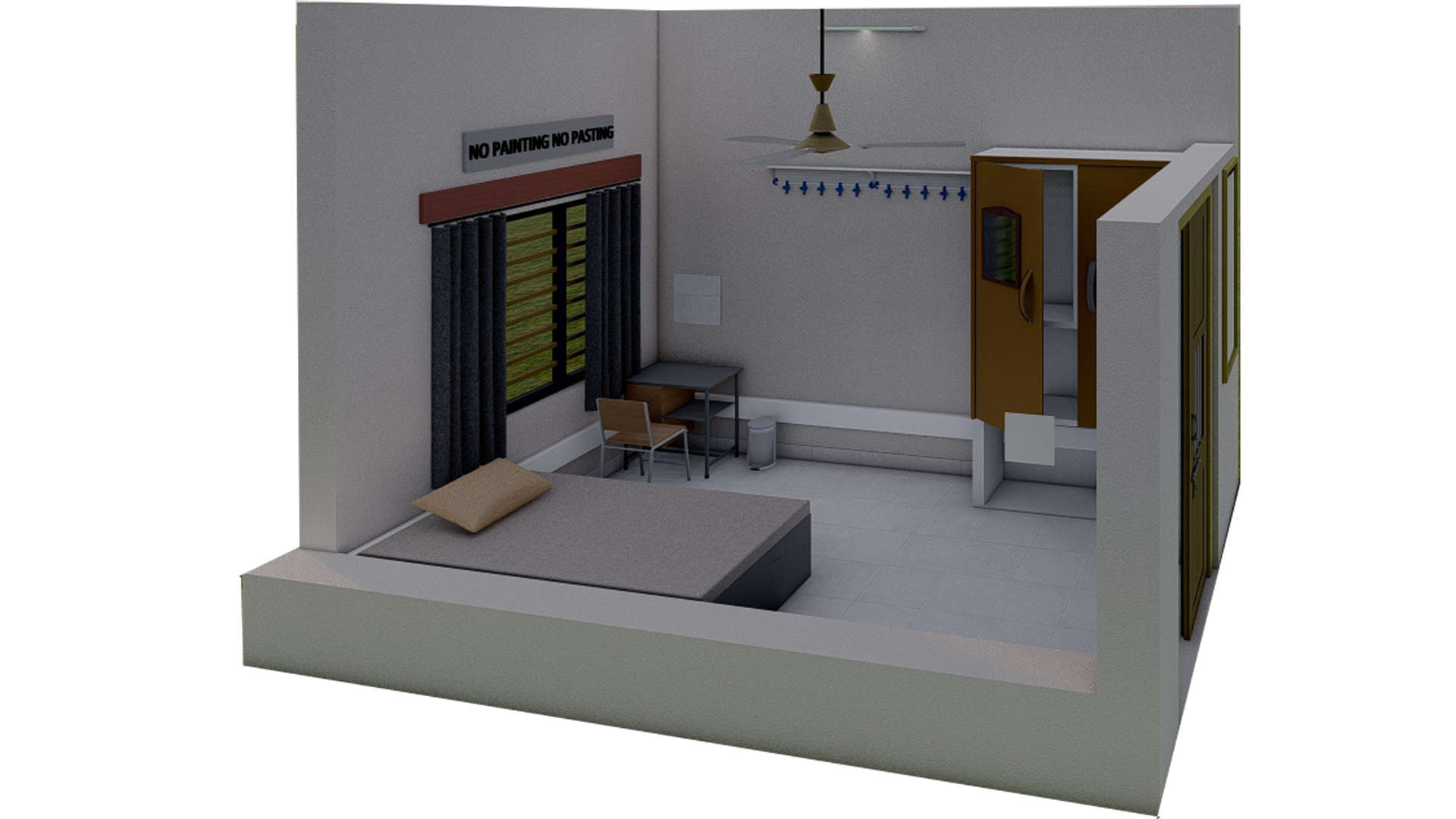 The IIT-Kharagpur Office of Alumni Affairs has kicked off a campaign that allows you to have your hall room named after you for perpetuity for modernizing its infrastructure--OWN YOUR HALL ROOM!

If you've donated to the IITKGP Foundation, you may be able to double your donation! We're here to help you with the process!
Ongoing: MITHAS and LearnQuest Academy of Music present, "Blue Planet Music Festival"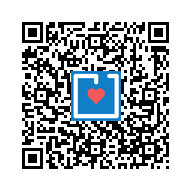 You can now make a quick donation to your IIT-Kharagpur by scanning the QR code to the left!
----------------------------------
The IITKGP Foundation respects your privacy!
To make sure these communications are not mistakenly blocked in the future by your spam-blocker, please add 'email_watch@omnimagnet.net' and 'webmaster@iitkgpfoundation.org' to your approved-senders-list. If you no longer wish to receive correspondence of this kind from the IITKGP Foundation please follow this unsubscribe link:
http://www.iitkgpfoundation.org/unsubscribe.html?email=[email]
. You will be removed from receiving any further e-mails at that point. Please allow up to 72 hours to process.