Donate to IIT-KGP and get a Tax Deduction

THE YEAR 2020 IN REVIEW
IIT Kharagpur Foundation, USA
The top two photos are from the IIT-Kharagpur Clock Tower Dedication Ceremonies.
The bottom two photos are from the ADDA Dedication--a gift from the Batch of 1970 on their 50th Golden Reunion.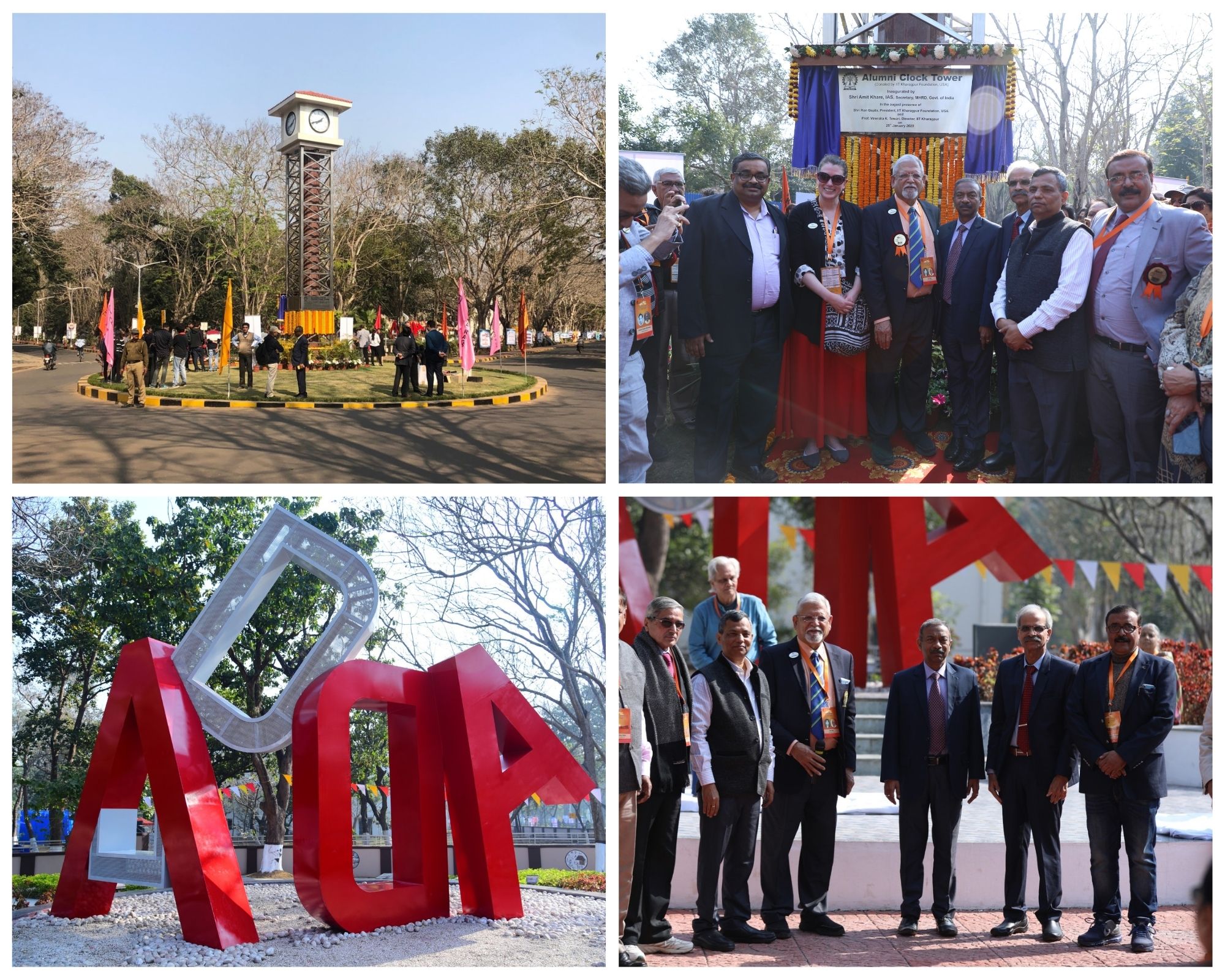 Fellow Alumnus/na of IIT Kharagpur,
In this festive holiday season, we wanted to share a glimpse into the past year's activities/projects that the IITKGP Foundation (IITKGPF) have been working on.

Clock Tower Dedication—On January 25, 2020, the Alumni Clock Tower at KGP was inaugurated. Shri Amit Khare, the Secretary of the Ministry of Human Resource Development (MHRD), Govt. of India, was on hand to cut the ceremonial ribbon.
GOLDEN2020REUNION, ADDA Dedication, and Spring Fest—The Batch of 1970 celebrated their 50th Golden Reunion with gatherings held across India. While at Kharagpur, their festivities coincided with Spring Fest and one of their batch gifts, the ADDA, was inaugurated.
International Internships—In its third year of this program, the Foundation awarded 14 students' scholarships to pursue international internships at leading colleges/universities around the world.
Guru Krupa Foundation (GKF) Fellowships—The Guru Krupa Foundation (GKF), a non-profit founded by alumnus, Mukund Padmanabhan ('87), created ten student fellowships (five for incoming students to KGP and five outgoing from KGP).
Partha S Ghosh Academy of Leadership—The Academy, a first of its kind in India, named Prof. Kanchan Chowdhury as its Chairman. Prof. Chowdhury is a Professor in the Dept. of Cryogenic Engineering.
Academy of Classical and Folk Arts—On the 70th Foundation Day of IIT-Kharagpur, the Academy, the first in the IIT system, was inaugurated.
G S Sanyal Award—Also, on the 70th Foundation Day, the IITKGP Foundation awarded the first "G S Sanyal Award" to Prof. Shailendra Varshney.
'COVIRAP' Testing Device Development—The Foundation, along with IIT Madras alumnus, Anand Rajaraman, provided monetary support for the development of a low-cost, quick, and accurate COVID-19 testing device.
KGP Alumni Fund for COVID-19—KGP alumni have stepped up to help the staff at IIT-Kharagpur, raising over $500,000. With these monies, the support can continue until at least March 2021. We are still raising funds for this campaign.

Ongoing Support for Chair Professorships: Ajay Kumar Singh (AKS) Endowment Fund (Batch of 1993), Professor A.S. Davis Chair Professorship (Vinod Gupta '67)
Ongoing Support for Scholarships: Professors Chandralekha Singh ('88) and Jeremy Levy Student Excellence Awards, Asoke Deysarkar ('73) International Program (ADSIP)

There is much more to share about the above projects, so please make sure to check out the full version by clicking the below link.
Read the Full Version

Also, as 2020 draws to a close, please give back to your KGP! Below is a link to make a quick donation.
Make a Quick Donation Now!

Best wishes to you and yours for the upcoming holiday season,
Ron Gupta (Arch., 1970, NH) Erin L. Moran
President Executive Director
IIT Kharagpur Foundation IIT Kharagpur Foundation
rongupta@aol.com emoran@iitkgpfoundation.org
IIT Kharagpur Foundation is a 501(c)(3) organization. Contributions are tax-deductible in accordance with IRS rules and regulations.
IIT Kharagpur Foundation of USA

----------------------------------
The IITKGP Foundation respects your privacy!
To make sure these communications are not mistakenly blocked in the future by your spam-blocker, please add 'email_watch@omnimagnet.net' and 'webmaster@iitkgpfoundation.org' to your approved-senders-list. If you no longer wish to receive correspondence of this kind from the IITKGP Foundation please follow this unsubscribe link:
http://www.iitkgpfoundation.org/unsubscribe.html?email=[email]
. You will be removed from receiving any further e-mails at that point. Please allow up to 72 hours to process.