Seasons Greetings and IITKGP Foundation Annual Appeal Letter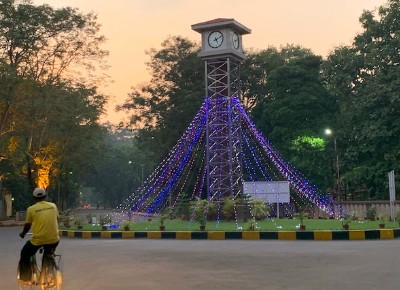 THE YEAR 2019: IIT Kharagpur Foundation, USA
Fellow Alumnus/na of IIT Kharagpur,
It's that time again--the start of the holiday season and the end of another year. We wanted to reach out and give you updates on a few of the accomplishments the IITKGP Foundation (IITKGPF) has achieved over this past year.
There are many new and exciting projects in the pipeline as we enter the New Year and the Foundation will continue working hard for the success of their alma mater!
We want to thank you for your generosity and support. Your contributions to IITKGP help the Foundation to assist with the above initiatives, continue to introduce new programs to drive ongoing success, and uphold our reputation as a world-class institution.
If you have a proposal for a fundraising initiative, would like to help us with future initiatives, want to become more involved with the Foundation or have any news to share about KGP-related happenings, please drop us a line at info@iitkgpfoundation.org. We are always looking for more "champions" of KGP.
The IITKGP Foundation is an IRS authorized 501(c)(3) entity and your donations may be tax-deductible under the US Law.
You can make a quick donation online now:

To send a check, you can mail it to the following address:
IITKGP Foundation
PO Box 27183
Omaha, NE 68127
(Note: make sure to list your donation intentions in the memo or include a note with your check.)
Best wishes to you and yours for the upcoming holiday season,
Ron S. Gupta (Arch., 1970, NH) Erin L. Moran
President Executive Director
IIT Kharagpur Foundation of USA IIT Kharagpur Foundation of USA
----------------------------------
The IITKGP Foundation respects your privacy!
To make sure these communications are not mistakenly blocked in the future by your spam-blocker, please add 'email_watch@omnimagnet.net' and 'webmaster@iitkgpfoundation.org' to your approved-senders-list. If you no longer wish to receive correspondence of this kind from the IITKGP Foundation please follow this unsubscribe link:
http://www.iitkgpfoundation.org/unsubscribe.html?email=[email]
. You will be removed from receiving any further e-mails at that point. Please allow up to 72 hours to process.